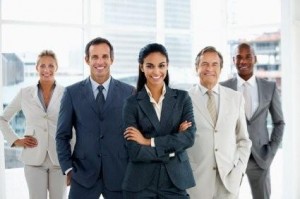 What makes a truly inspiring leader?
Is it charisma? Confidence? Integrity? Authenticity? The ability to engage and motivate?
BRODY's Director of Training & Senior Facilitator Amy Glass believes it's all that and so much more.
How you speak to others, how you respond, how you listen -- all of those important communication skills -- play a major part in demonstrating executive presence.
Amy will be delivering a workshop on this important topic, "Executive Presence: Increasing Your Command, Confidence & Credibility," at the ASTD Philadelphia 2014 Regional Conference next Wednesday, May 21.
While the debate as to whether leaders are born or made continues to rage on, research has repeatedly shown that leadership traits can be learned and honed through practice. So, why not sidestep the debate entirely and become proactive?
Do you have the following five leadership skills that Amy has identified as key to Executive Presence? And, if not, what steps do you need to take to learn them?
Being Present. This means being calm, focused on the person or task at hand, and in control of your emotions regardless of what's going on around you. Does this sound possible? If so, those around you will see your confidence and executive presence.
Being Connected. Leaders are collaborators, influencers and team builders -- not just people barking out orders and expecting to be followed without question (unless you are in the military). Connection is about building relationships within your team and throughout your organization. Some tips to be connected: listen, demonstrate empathy, pay attention, and really try to understand team members.
Being Expressive. Interpersonal communication skills are critical! If you exude confidence (but please, not cockiness or arrogance -- there's a not-so-fine line here), if you look and sound like a leader, people will see you as a leader.
Being organizationally savvy. This means understanding your corporate culture, your role within it, and the big picture of what your department is trying to accomplish and how it fits into the company's overall strategy. This has become more and more important, as savvy organizations seek leadership at every level.
Being inspirational. You cannot inspire others if you have no credibility. Building trust, being transparent, sharing your values, your vision, your enthusiasm, and your confidence, are all part of being inspirational. So, keep your word, share who you are and why you believe what you believe.
Interested in learning more about how to develop executive presence? Would you like to make the step from "worker bee" to "thought leader?" Do you realize that just having the necessary skills to do your job is not quite enough to move you ahead?
If you're in the Philadelphia area, why not join Amy at ASTD-PHL on May 21? Her session runs from 10-11 am. Here are some of the things that Amy will cover in her workshop:
• Being present in the moment to help control emotions and increase flexibility
• Creating connections and enhancing relationships through listening and empathy
• Projecting confidence through body language and voice
• Presenting yourself and your ideas with impact and presence
• Understanding leadership presence and its value to personal development and organizational success
• Thinking on your feet or seat, while projecting credibility and poise
• Being inspirational — move others to purpose, to embrace change and do great things
You don't need to be an ASTD member to attend this outstanding event, and registration is still open!
We also have a new "mini" book out on this subject: "Leadership Presence: The Influential Intangible," available in the BRODY Success Store.