Business etiquette, or having good manners as some would say, is not just a bunch of meaningless rules to remember; rather, it's all about making others feel comfortable and respected. It relies on three basic tenets: logic, efficiency and kindness.
While there are many aspects of proper business etiquette I can discuss in this blog, I'm going to focus on one area that's rife with potential career-limiting moves: the proper business introduction.
Many people have no idea that there is a protocol for introductions in business situations. So let's take a look at the basics right now.
If you're at a business function and there is no one to introduce you, you'll need to become comfortable introducing yourself. Start with, "Hello, my name is..." Then, have one more line prepared and rehearsed, that clearly conveys what you do -- for instance, "I work with clients to enhance their leadership skills."
Remember, your introduction must be appropriate to the occasion; what you would say at your company's regional conference might be very different than what you would say at a networking event or client meeting.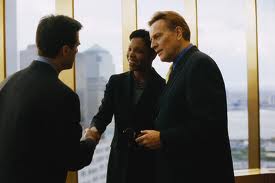 Here are four basic protocols for business introductions:
Start the introduction with the name of most important or influential person. This would be your client, or perhaps your boss. Use both first and last names, as in, "Bill Gates, I'd like you to meet Miryam Roddy." You can add something about the person being introduced, such as, "Bill Gates, I'd like you to meet Miryam Roddy, who is the publicist for our firm."
Next, go back to the person of highest rank and say something about them as well. "Miryam, Bill is one of the richest men in the world." Just kidding of course; please don't ever say something like that. However, adding a bit of information about each person helps them remember each other's names, and smoothes the way for conversation by giving the two new acquaintances something to talk about or ask each other about.
What if everyone is of equal status? Then use gender as your guide, starting your introduction with the woman's name. If you're introducing two women or two men,

start wtih the oldest person's name

.
Always give the person's name before giving the relationship or their position. For instance, "I want you to meet Jane Doe, my wife," not, "I want you to meet my wife, Jane Doe."
Do you know when to offer a handshake, what the proper handshake protocol is, or how to approach situations where you need to make an introduction, but cannot remember the other party's name? Do you believe that these kinds of things are important to your career? If so, you're in luck – I'll be tackling some of these topics in future blogs, too.
Please add your "two cents" to this dialogue. We'd love to hear your opinions about business etiquette and professionalism in the workplace (or the lack thereof).