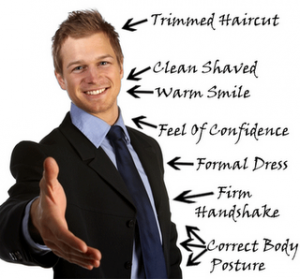 Have you ever found yourself in a sticky business situation?
Like during that power lunch, job interview, professional conference, board meeting, office party, or anytime that a situation arises and you are just not sure of the proper protocol.
You definitely don't want to put your foot in your mouth. And you do want to put your best foot forward.
Do you know how to:
Handle the introduction of your boss to your biggest client?
Offer a handshake that leaves a strong and professional impression?
Handle the check at a business dinner?
Make a business phone call or write a business letter?
Using the proper business protocol in every situation will establish you as a true pro; and someone who others will want to work for, work with, do business with, and promote.
Worplace etiequette is not hard to learn if you're willing to make a bit of effort.
That little bit of effort can go a long way in easing any stress you might feel in business situations, and free up your energy to do your best at what you actually do. Who needs the anxiety of not knowing how to behave?
Your confidence in any business situation is a gift to your colleagues and clients.
Confidence can be contagious. You can't be certain that others know the proper protocol in most every situation, so if you do, you can set the example and put everyone at ease. Not only will your colleagues and clients (silently) thank you for it, they will not forget it.